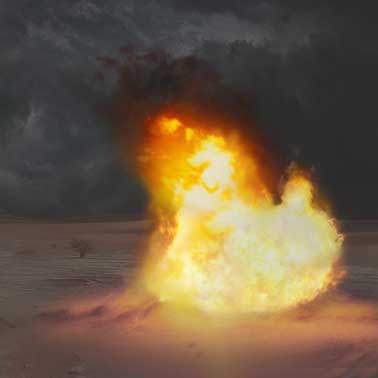 EXOTIC BELIEVERS CD/LP
A LARGE PRODUCTION FULL SCALE STUDIO ALBUM RECORDED ONTO 1/2 INCH ANALOG 8 TRACK. WITH CONTRIBUTIONS FROM MEMBERS OF JACKIE O MOTHERFUCKER, AU, DRAGGING AN OX THROUGH WATER, PARENTHETICAL GIRLS, SHAKY HANDS, AND MORE.
THE VINYL COMES WITH A CODE GOOD FOR ONE FREE DOWNLOAD OF THE ALBUM. FULL COLOR JACKETS. 500 MADE.
ALSO AVAILABLE ON CD. THE VINYL IS A SPLIT RELEASE WITH NORTH CAROLINA'S CAPE AND CHALICE MUSIC FACTORY.
PRESS FOR EXOTIC BELIEVERS:
Since 2001, Eric Crespo has been recording under the name Ghost to Falco with a rotating cast of contributors from Portland's independent music community. He recently released "Exotic Believers", his third full-length and perhaps his most accomplished work to date. Released on his cooperative-run label, Infinite Front, "Exotic Believers" finds Ghost to Falco continuing to explore the odd intersections between folk songcraft, rock experimentation, and minimalist composition to assured results, at times bringing to mind Neil Young being backed by This Heat. Before hitting the road again for some upcoming tour dates, Crespo took the time to answer some questions about the making of "Exotic Believers" and his overall approach to songwriting, among other things.
–FOXY DIGITALIS (go to http://www.foxydigitalis.com/foxyd/features.php?which=462 to read the interview)
________________________________________________
A common revelation to many an outsider, Eric Crespo found music as his savior while he was in middle school. Inspired by the bands his friend's older brother played in, the young Crespo would begin to write songs on a borrowed electric guitar and stay out late to attend shows in Chapel Hill. While many of us can recollect isolation and the classic coming of age stories of middle school, the impressionable 8th grader found a new power in underground rock music. "Seeing people play who were nerds but filling up a room with people by making up their own weird music seemed really fantastic to me," he relates with adolescent nostalgia.
On Halloween of 2001, Crespo left his home in Burlington, North Carolina and arrived in Portland, Oregon, searching for new beginnings. Once settled, he began to focus on music making and became the songwriter and lead visionary of the ever morphing deconstructed rock project, Ghost to Falco. Initially envisioned as a solo project, Crespo has invited various musicians to join him and bring his stark, haunting compositions full circle. His first releases under Ghost to Falco came out in 2004, followed by a split 7 inch with The Curtains put out by Collective Jyrk and a full length dished out by the now defunct label, Colletta Blue.
Currently, Ghost to Falco is on tour in Italy, a land Crespo has walked before with the help of admirable friends and followers. His mission is to promote his latest masterpiece, Exotic Believers, an epic collection of eerie compositions featuring cameos by Portland's finest musicians. The album came out earlier this year on Cape and Chalice/Infinite Front and has entered the running for Best Album Of 2010 in my mind. His music lends itself to cult-classicism and hints at something greater than himself, a vehicle that drives fast into the impact of the listener.
In fact, Exotic Believers wastes no time grabbing the listener hard by the ears with an intense, rambling psalm found in opening track, "Black Holes". A relentless, distorted pulse drives on while Crespo rants and raves about the deconstruction of modern man with venomous lines such as "Will you be the mover of your hand, or a human you can't stand, or a concept you can't name". It doesn't take long to realize Crespo's lyrical content in Exotic Believers doesn't exactly reflect sunshine and unicorns. However, as an artist, he says music allows him to conquer inner demons. "I find myself gravitating towards lyrical themes and ideas that are kind of weighty or dealing with times when I felt a sort of transcendence where I could look at the big picture," he explains. "I feel fairly psychologically healthy but if I didn't have my "artistic release" who knows what I would be like."
The music recorded on Exotic Believers is equally emotive. Second track, "Rising" is entirely instrumental and follows the chaotic seether of "Black Holes" with a sullen string intro (featuring members of the celebrated Portland Cello Project) accompanied by an ominous church bell ringing out a desperate fate. It serves as the perfect lead-up to the albums first masterpiece, "Comfort Series #2″. About the track's lyrical content Crespo recollects, "I got pretty obsessed with the idea of modern forms of comfort and how the human search for comfort has jeopardized our very existence." Entering the epic song with Crespo's wavering tone, the song builds up with a mourning melodica and then crashes down with a heavy subterranean rock ensemble laced with anamorphic guitars and the shriek of strings. The high is short lived and falls back to a glum minimalist guitar before going into a nearly klezmer inflected chant. The song is incredibly well orchestrated, a talent Crespo has cultivated with a rotating entourage of collaborators. "There was no sheet music," Crespo explains about the writing process. While Ghost to Falco is sometimes a group effort, the players respect Crespo's vision and help him to achieve the sounds he hears inside his head. "I'm incredibly grateful to all the people who lent such marvelous performances for this album."
"Secrets Of The Free" is sure to be an indie underground classic – as it is probably the most "pop" oriented song on the album – with it's fixed rock structure and infectious vocal melody. It is followed by a monotonous exhale of a harmonica on "Into The Missions/Quiet At Home" leading up to the most haunting lyrical performance on the album. Crespo triples his vocals on this a capella collage that equally channels drunken soldiers wasted on the barracks with the peyote induced wisdom of a shaman. The second half of the album contains songs like "Greater Good" and "Alive" which rely on heavy dynamics while maintaining a minimalist sincerity.

Crespo was invited to record Exotic Believers in a storage space for oriental rugs at the corner of NW Davis and 10th in Portland, OR. "It always felt like Exotic Believers would be the last big project that came out of there," he says. While there was no heat and little insulation inside the space, the record managed to make it out sounding warm, professional and spacious. At times it was a makeshift affair where much of the instrumentation was recorded by one studio mic and Crespo's vocals partially captured in the bathroom. The album reflects a moment in time as the space is no longer available as a studio. "Now there's a parking garage below it," Crespo laments. "I don't know what's become of the space where we used to record."
Touring provides Crespo with a marriage of his favorite things: playing live and traveling. The magic of Ghost to Falco shows exist best without expectation; a mission to engage the audience, rather than entertain. Only one thing is certain, Crespo will be there. Solo or with a backing band allows for new forms of the same song to emerge depending on the flavor of the night. Though music is a fluid art form, existing without rules and barriers, it is hard for artists – and listeners to let go of the versions they cherish at home. Crespo relates this to an existentialist dilemma. "I was thinking about how all the little moments in your days add up to a lifetime. People dream about things that will happen one day, but meanwhile their life is happening and yesterday is how that day will be forever," he explains. "There is no changing it. And more specifically to the nature of recording, even if a song evolves over time the way it was recorded is the general way it will be remembered. Forever."
…and remembered it should be. The nine song record rises and falls into itself with effortless beauty and relief. It is the type of record that hints at a deeper meaning in rock music and should be regarded as an indie masterpiece, held up with the likes of Will Oldham, Phil Elverum and Scout Niblett. Yet, Crespo himself is unsure about the meaning behind the title of Exotic Believers. He says he needs time to reflect on the album's title and the compelling songs that make up it's inner core. Still, he has his theories behind his work. "I have a feeling it's pointing to people who can wholeheartedly believe in something with all of their being," he states via e-mail from across the Atlantic. "I envy people like that."
–OUTSIDER MUSIC PRESS
http://outsidermusicpress.wordpress.com/2010/07/12/ghost-to-falco-2/

___________________________________________
Ghost to Falco
Exotic Believers
(2010, Cape and Chalice/Infinite Dront)
RIYL = Dragging An Ox Through Water, Castanets, Gowns
A buzzing, gothic sermon, hammered into place over a wobbly cello, specked at the edges and then into a heavy, multi-stringed, minor chord reprieve – that's how things begin on Ghost To Falco's Exotic Believers and it's absolutely invigorating. Like a perfect splash of cold water to renew your sense of feeling and place, the operation of your fingers and feet. Swimming about amongst the wonderfully productive experimental scene brewing about in the northwest, Ghost To Falco plays a dark Americana that does a lot to fill the inestimable gap left, just this year, by geographical neighbors, both in location and sound, Gowns. Those are big boots to fill (in my eyes), and no one is claiming that Ghost To Falco is trying to fill them, but in his own way, this project, this album, Exotic Believers, fills that void for me. The irony here is that Ghost To Falco fills that void with another void. Exotic Believers collapses country into a barbed, black hole that sucks you in, body and soul. It's no surprise that the man is good friends with Forest Gospel favourite Dragging An Ox Through Water. Both employ a variety of sound bending/destroying effects to their music, though to results unique to each. Suffice it to say, if you like one, you're likely to enjoy the other. Ghost To Falco's songs do feel, in comparison, to have a bit more muscle, a bit more guitar control, which flexes at different points throughout the album. The vocals are strong, often multi tracked, lapping one upon another. And there is a couple loose, noise-punk freakouts waiting around the edges. So, slightly more aggressive, but not overly so. With all these elements in play, you won't be surprised to learn that Exotic Believers is certainly one of the better albums I've heard all year. Do yourself a favor and give it a listen – you won't be disappointed.
–FOREST GOSPEL
_____________________________________________________

Ghost to Falco is largely the product of the imagination and talent of Portland's Eric Crespo. However, on Exotic Believers, which was recorded in a warehouse over the course of many months, there are no fewer than 30 contributors, including members of Dragging an Ox through Water, Evolutionary Jass Band, Horse Feathers, Shaky Hands, Argumentix, Parenthetical Girls, Reporter, Au, and more. With so many artists on board, one might expect the album to force its mood on the listener.
The result, however, isn't quite so overbearing. While Exotic Believers is occasionally uplifting, there is a darkness that dampens the jubilation if you're listening for it. If you feel slightly perturbed or malaise at the hands of your daily routine, there is enough introspection and texture here to pick you up. But if you want something with a sock-hop vibe, then you'd probably do well looking elsewhere: the languishing permeates each track through the gritty orchestration and stark isolation of both the instruments and Crespo's voice, to the point where tapping into its darker side only requires a slight shift in perspective.
This dialectic is made clear from the beginning. The album starts abruptly with "Black Holes," jarring you into a state of agitated awareness for less than two minutes before lapsing into melancholy and a tolling bell. It's the sort of challenging fare that doesn't play easy on casual listens. And unless your mood reflects this giant fireball of an album 24/7, the complexity of arrangement between strings, electronics, guitar, and Crespo's raspy, strained voice all combine into a package that will fit a niche but not resonate all day, all night.
Consequently, I have found myself preferring the method of picking and choosing songs for specific instances. For the moments when I need a soothing but angular backdrop to my daily activity, "Comfort Series #2," with its solitary opening and its bombastic middle sections, is the best-fitting groove. The feeling of "Secrets of the Free" reflects an even more triumphant moment in life, and so the progression of the album shifts between anguish and some sort of angry joy. Later still, "Into the Missions/Quiet at Home" is like a folk dirge for warehouse dwellers, and so the motif of unsettled urban confidence goes on without relief or levity.
The cover of Exotic Believers does an amazing job of reflecting the immense reverence and power in Crespo's approach to music-making. The mysterious flames from the cover are silent yet imposing, with a mysterious force that emanates from the vision. While the album isn't silent, the procession of tracks possesses a similar feeling of desolation that one might feel being alone in the desert, with waves of heat, giant flames licking skyward.
–TINY MIXTAPES
http://www.tinymixtapes.com/music-review/ghost-falco-exotic-believers
____________________________________________________________
Featuring a cast of 30 musicians but essentially the work of Portland's Eric Crespo, Exotic Believers is as diverse as its roster (including members of Castanets, Parenthetical Girls and Jackie-O Motherfucker). Crespo augments a set of noisy rock songs in the Steve Albini tradition with various side trips ranging from Castanets-style cinematic instrumentals to out-and-out noise – luckily, the more accessible moments are so solid that the detours are almost unnecessary. The lyrics and melodies recall folk music despite the generally heavy instrumentation, with the album closer "Lords of The High Country" being the high point. "Lords…" feels like The Ex took inspiration from rural England instead of Africa on Dizzy Spells, with pounding, angular bass and drums under Crespo's rough-yet-reedy voice. The songs can occasionally run a bit long, but you can be sure that a new twist is always right around the corner.
–STILL SINGLE
http://still-single.tumblr.com/post/1000796914/ghost-to-falco-exotic-believers-lp-infinite
____________________________________________________________
Nowhere To Run
It's the end of the world as we know it, and Ghost to Falco feels fine.
BY CASEY JARMAN | cjarman at wweek dot com
When Eric Crespo started writing what would become Ghost to Falco's third album, Exotic Believers, in 2007, he was fretting about the end of the world—or rather, trying to avoid contributing to the end of the world. But the books he'd been reading—by author/environmental activist Derek Jensen—didn't leave much room for optimism. So if there's a theme to Exotic Believers, "I guess it's about coming to grips with the idea that humans are fucking up terribly," Portlander Crespo says with a chuckle. "[And] even if you go live out in a shack in Nowhere, Montana, you're not going to get away [from it]. As much as you think in your head and in your dreams that you can, you're not going to."
If it sounds like a bummer of an album, well, we'd be lying to call it upbeat. But as purging goes, Exotic Believers is quite an exercise. Crespo's lyrical monologues dart and dive between sharp, crusty riffs and bursts of unpredictable instrumentation from dozens of notable local musicians that include the Shaky Hands' Nick Delffs, Dragging an Ox Through Water's Brian Mumford and Horse Feathers' Heather Broderick. At times, as on the Elephant Six-esque opener "Black Holes" and "Secrets of the Free," Crespo scrambles and hollers his demands; at other times he's a voice of calm, questioning realism—singing as if explaining the human race to an alien ("We're just trying to survive/ And we invent things and we die/ The generations carry on," he sings on "Everything Alive."). Crespo presents his existential crisis alongside the natural one—I hesitate to use the word "spiritual," as God never really comes into the equation.
The s-word doesn't scare Crespo. "I think that's the right word," says the 28-year-old songwriter, who moved to Portland from his home state of North Carolina in 2001. "I think everyone, no matter if they acknowledge it or not, has to have some kind of spiritual release—whether it's shopping or television or sports or church. Music didn't start that way for me, but when I come to realize what it is in my life, it's like religion. It fulfills the same need."
If music is Crespo's religion, the upstart Portland label Infinite Front is his new church. Though Crespo and GtF bandmate Ryne Warner dreamed up the imprint, it will be collectively run by a number of like-minded artists. Infinite Front's launch party this Saturday presents releases by GtF, Ohioan and a four-way split 7-inch record featuring those bands alongside Dragging an Ox Through Water and Castanets. It's a musically like-minded collective: All these artists teeter on the divide between melodic songwriting and noisy experimentation, and all analyze (however uniquely) big-picture issues of consciousness and existence in their lyrics.
But what good is a record label, or a new album—even one as epic as Exotic Believers—in the face of the impending Armageddon? Crespo says there's value in the simple things. "You've gotta make yourself happy and feel alive," he says. "I think it's good for the world when people feel alive."
–WILLAMETTE WEEK
http://wweek.com/editorial/3611/13583/
_______________________________________________________
Ghost to Falco and Ohioan are releasing new albums tonight, and they're both excellent. Ghost to Falco's Exotic Believers tromps all over a moody, craggy landscape with stoner rock jags, warped folk mumbling, sonic squeals, and smooth strums. It's a stormy record, but not a dark one—Ghost to Falco's Eric Crespo knows the value of properly illuminating those rolling, boiling clouds with enough light so you can see 'em in their full, dramatic intensity.
–PORTLAND MERCURY
_______________________________________________________
"The first track of this record is explosive. No swell, just a bomb exploding. Rancid cello notes, angry satured male vocals. Then it abruptly stops, – and on the following Risen You'll hear church bells tolling, – mournful violin and cello will walk you to the Sunday requiem mass, – a disarming promenade into pain finally ruined by distortion. Then this guy grabs back his folk guitar, and starts a trembling sad song, suddenly turning into a big wave of slow-hard rock, – heavy bass lines, – a short term storm in his bedroom, soon getting calmer.
Homebased in Portland, Oregon, USA, started in late 2001 – Ghost to Falco is mainly a one-man project, Eric Crespo's one, who co-founded Infinitefront rec: emotive vocals, a sort of juxtaposition of rage and powerless inner riot, – droning sounds and psychic songwriting, – where Into the missions/quiet at home looks like a song from a cotton field, Greater good is a free-indie / post-rock tsunami, Everything alive is a meditative and confessional, Lords of the high country is a final dreamy song inside another song, left-right panning in your ears.
Exotic Believers is a different record, as coordinate, i can just cite Gowns for the neighbourghood."
—KOMAKINO ZINE (Italy–also in Italian–http://www.inkoma.com/read.asp?id=2539)
_________________________________________________________
"There's only one way to classify the sophomore effort [ed. note–it's actually the third full length] of Chapel Hill refugee Eric Crespo's project Ghost to Falco and that would be as "indescribable," though maybe "breathtaking" would suffice as well. As the follow-up to 2007's Like This Forever, Exotic Believers furthers Crespo's exploration into the impossible and makes countless side trips along the way. Even with a cast of more than 30 Portland musicians in the fold, Exotic Believers sounds surprisingly cohesive in an unpredictable sort of way. The only constant is the slightly cold and dirty feeling with which the listener is left after each of the album's nine tracks. From the noise-laden opener "Black Holes" and it's mournful successor "Risen" to the subterranean low-end growl of the epic "Comfort Series #2," there's an unsettling feeling to be gathered from both the wild artistic ambitions and the abstruse anti-war message hidden within Crespo's unconventional meter. Of course, there's a it of context missing on the album, as Ghost to Falco is a multimedia project as well. Live shows complete the picture with disquieting imagery to perfectly parallel the incongruence of the record. It's always a risky proposition to conjoin the words "art" and "rock," but Exotic Believers does so to stirring effect."
–YES! WEEKLY