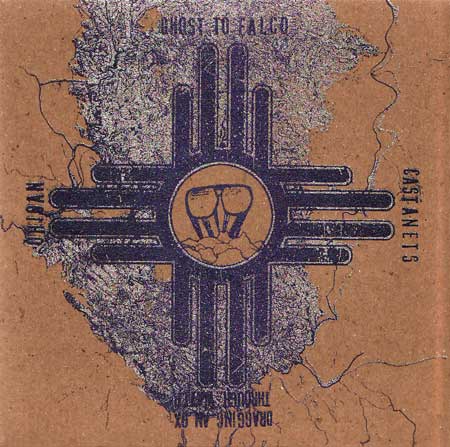 ZIA 7"
4-way split 7″ between Castanets, Ohioan, Ghost to Falco, and Dragging an Ox Through Water.
Limited to 300 copies.  Hand-screened, 3 color covers.  Featuring artwork from Brian Mumford (Dragging an Ox), Jeffery Bowers (PRISM Index magazine, "American Boogie" film), and O Ryne Warner (Ohioan).
All exclusive new music:
Side N, Pan W:  Dragging an OX – "Bitten Apple" (from "Tropics of Phenomenon" sessions)
Side N, Pan E:   Ghost to Falco – "Harsh & Low/Duel for Thunder" (live recording in Utah desert)
Side S, Pan W:   Ohioan – "Being Cold" (new song, "horn version", from upcoming Childs record)
Side S, Pan E:   Castanets – "Tea Song" (michael hurley cover)
all tracks are in mono, with each song hard panned left (west) or right (east), so to hear separately, pan your stereo accordingly.  also, some cross-talk is inevitable on vinyl, so personal equalization is recommended.  or just listen to two songs simultaneously and freak out.
No digital versions available.
Postage included in price.
This record will never be repressed.
Mp3:  Ohioan – "Being Cold"