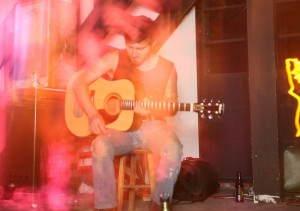 Ohioan playing a very, very rare solo acoustic show.
Debuted new songs:
– "the End of Fun"
– "Whats Not Blood"
– "Still Reeling"
– "Fat Children (with Privilege)"
as well as some old goodies and a Lucinda Williams cover.
3 new tapes on the horizon: a more song/lyric-oriented collection, a tape collage/cumbia trance/arabic dub mix, and a document of the current Tucson live band, which happens to be playing its first wedding gig this Saturday.
Thats enough for now.